This morning, for some reason, I woke early and decided to go for a run on this little island of Isabella. I took a right out of the hotel and figured I'd find something. I brought along my trusty phone in case I wanted pics. Glad I did. I'm guessing I ran about three miles but the run took almost an hour as I kept stopping to ooh and ahh.
The sunrise was lovely.
Then I ran past this colorful cemetery.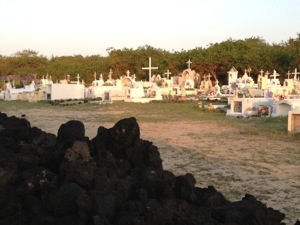 I peeked in on the organic (referring to the materials; not a statement about pesticides) beach.
Of course the cacti must be admired.
As I was heading down to La Playita, I was stopped by these two characters. Though I know they're harmless, I was wary of going around them so I took it as a sign that I should head back.
Well played, iguanas, well played. From here, I'm off to hike a volcano. But first I must choose which child to sacrifice once atop. At this point, it could be either one….
§ One Response to My Morning Run