On Sunday, Pie and Jasmine were making friendship bracelets in the kitchen while I was reading a book in the family room. I wasn't paying too much attention, but I heard them say something about "fat" and "thin" so I perked my ears up. I missed that conversation completely, but I did hear this exchange:
Pie: When we grow up, we'll have wrinkles.
Jasmine: Yeah, like your mom.
Pie: My mom doesn't have wrinkles! Well, I guess she does.
Way to stand up for your mom, Pie!
And this was after Pie and I were reading Rebecca and the Movies together. It's a story about the American Girl Rebecca Rubin, who lived in New York in 1914. She's the daughter of immigrants, trying to lead an assimilated Jewish life amidst the goyim.
In the opening of the book, Rebecca is listening to a phonograph at the candy store with her friend. There's a picture: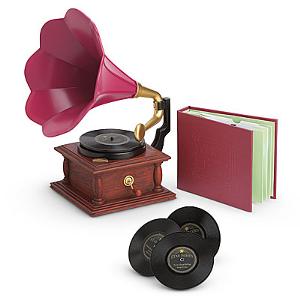 Which led to a conversation:
Pie: Mom, you played records when you were little, right?
Me: Yep.
Pie: So you just put the plastic on the machine?
Me: Uh huh.
Pie: So did your record player look just like Rebecca Rubin's record player?
Yes, sweetie. My Victrola was a hand-cranked machine that I used to listen to the newest Irving Berlin tune. Oh that Irving Berlin! He was so divine!
Of course, the reality of it is really the same to her. Irving Berlin and the truth–the first single I purchased was "Run Joey Run," which is a hell of a lot more embarrassing than anything that came up in the 1910s–are close enough in her mind: They're both ancient music.
This week I received my e-mail from Amazon: "Free MP3 Versions of CDs You've Bought!" Amazon's new program searches your order history for CDs so you can download the MP3s. It's a virtual walk down memory lane. Or in this case, a listen. Upstairs, in the dark recesses of a closet, I have all my CDs. I haven't looked at most of them for years. So getting this visual of songs 1) reminded me how much music I have that I really enjoy but don't listen to anymore and 2) brought me back to a different era of my life. My heaviest CD purchases happened when I worked at Amazon, right after it launched the music store. I had about three years of heavy CD purchases. All the various periods of my Seattle years lay before me: my chanteuse phase (Diana Krall, Edith Piaf, Karrin Allyson); my world music phase (Manu Negra, Youssou N'Dour); my hip chick phase (Belle and Sebastian, April March), to name but a few. Over 1,000 songs were added, reminding me of Seattle bars, ex-boyfriends, rain. That song list is a history of my life in Seattle. And I realized, nothing makes you feel older than seeing the music you used to listen to. Phil Collins and I'm in twelfth grade, catching rides at lunch to the Hoagie Hut. Mazzy Star and I'm in my illegal apartment on 10th Street in Alphabet City. Fun Lovin' Criminals and Adam and I just started dating. I played some clips from the various songs until Doodles ran screaming from the room. Although it doesn't take much any more to make the boy run screaming.
Last week Pie, Doodles, and I were driving, and while at a stop light, a group of girls slowly walked by.
"Hey, isn't that H?" I asked.
The boy said, "Nope."
"No, I'm pretty sure that's her. You know who I mean. The sister of M. You know, M from Cub Scouts."
"That's not her." The boy was certain.
"I really think it's her. Hey! Look! There's their mom! It is H!"
"It's not them, Mom!" Doodles protested.
"What are you talking about? Of course it's them!" I'm looking right at them and can clearly see who it is.
"Just don't stop. Please! It's mortifying!"
"Mortifying? You'll be mortified if I speak to them?"
"Yes!"
"It doesn't mortify you when I speak to other people."
"Yes, it does," he told me. "I just don't tell you."
And I thought, "Ah, we've now come to this," and I flashed back to my father mortifying me by speaking to my friends. My father only had to suggest speaking to my friends for me to want to crawl into a hole with my humiliation. The torch has been passed. I am now old enough that I mortify my son.
The universe (or at least my kids) is trying to send me a message. I'm old. My music belongs on a Victrola. And it's time I start using wrinkle cream.