Me: What's today?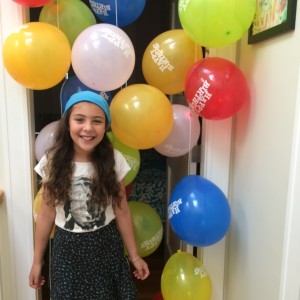 10 year old: My birthday.
Me: How do you know?
10 year old: Because when I woke up there were balloons in my door that said "Happy Birthday" and it's August 25, which is my birthday, and Doodles birthday was two days ago on the 23 and my birthday is two days after,so yeah. Also I opened presents and they all said happy birthday.
Me: How did you spend your birthday?
10 year old: I got mani/pedis with Jasmine. Went to Orange Leaf. We went out for lunch. We had Froot Loops with marshmallows for breakfast. We went out for dinner. We had cake with our neighbors.
Me: What was your favorite part?
10 year old: Mani/pedis. We also went to Candy Castle! I forgot about that.
Me: How does it feel to be a 10 year old?
10 year old: Good. I'm finally double digits like all my friends. When people say, "You're all ten, right?" I can finally say, "Yeah."
Me: Was it a good birthday?
10 year old: Yes.
Me: What are your favorite books?
10 year old: Truth about Twinkie Pie is my favorite book. I also like the Cupcake Diaries series, which by the way, can I preorder the next book? It comes out in October.
Me: We'll see. What are you listening to?
10 year old: Like music? I like Selena Gomez.
Me: Still?
10 year old: Yeah! Currently my favorite song is called Golden Boy and it's from the zumba class I took at sleepaway camp and it's song from this music competition they have in Europe and Israel submitted it, even though Israel is not in Europe, it still participates. It goes, "I'm a golden boy, come here to enjoy, I'm the king of fun, let me show you how we do it."
Me: What are your favorite things to watch?
10 year old: Favorite thing to watch is probably Nickelodeon and Disney. Like Nicky, Ricky, Dicky, & Dawn. Liv and Maddie. I also liked Bunk'd, which is a spin-off of Jessie. I also like Modern Family, but it hasn't been on lately so I can't say much about that except it's good; it just hasn't been on.
Me: What do you want to be when you grow up?
10 year old: No clue, but I think at this point a writer or I don't know, maybe a journalist. I really have no clue. Probably something to do with writing. I like drawing, so maybe I'll write a book and illustrate it myself. Probably at this point a writing.
Me: What happened to engineering?
10 year old: It's a maybe, but at this point writing is what I want to do. Engineering I'm into, but not as into.
Me: What are you looking forward to in 5th grade?
10 year old: My classmates. I'm excited for science camp. Freedom.
Me: What kind of freedom.
10 year old: I get snack whenever I want. The teachers aren't always there. It's basically like babysitting. They're still there to watch out for you, but you kind of go off, you don't need them to tell you a night time story. If you want one, you'll read it yourself. You don't need them to supervise you. If you're scared, you're not going to have them tuck you into bed like when you were little.
Me: Do you still have babysitters?
10 year old: Doodles is my babysitter.
Me: So teachers are just babysitters?
10 year old: Basically. They're there for you when you need it, they're there for you to teach you, but when walk to specials yourself, you walk inside yourself.
Me: What are your goals as a 10 year old?
10 year old: I want to be more awesome. I mean I don't have much expectations. I kind of want for school, I want to be more mature. There are a few acts I want to change. Like sometimes when I'm tired, I'll totally tune out. In math, I'll doze off with my eyes still open. At the end of the year Jasmine would sit next to me and we'd pass notes or write messages to each other on each other's arms with our fingers. I want to be more focused because for middle school and high school there are a lot of things I want to do and it kind of starts here. So I want to be a little more mature. I want to try and grow my hair out a little longer. I need to take better care of my hair. I want to be better about my hygiene.
Me: Any grand pronouncements?
10 year old: Again? What's a pronouncement? Tweedle Twirp already explained it to me this morning, but I forgot it.
Me: Any big statements about the year?
10 year old: I kind of feel like–it's about the school year again–I feel like I'm ready. I'm prepared. This summer I've been setting myself up for this year. I have my best my thoughts at camp. Walking back from the dining hall or walking around the tree at the front yard or before I go to bed I'll think about my life. I feel like this year is going to be very different. I have an image in my head of what I want to be, which probably during the middle of the year, will probably disappear, and I'll be back in my bad hygiene habits. Ooh! This year I'm going to try to start flossing! That's my grand pronouncement!
Happy birthday, Pie!